The Atlanta Area Association of Independent Schools was founded in 1971 by a small group of school leaders and admission directors. They wanted to end high-pressure admission procedures and put families first.
The first decision they made was to agree on a common notification date, whereby all families that applied to one or more of the member schools would receive all acceptance decisions on the same date, with a request to respond within roughly two weeks. This gave families time to weigh their options and make a decision without feeling rushed or pressured.
Common admission dates are still a cornerstone of AAAIS, but as the organization steadily grew to its current size of about 70 schools serving over 35,000 students, additional focus has been placed on collaboration and the sharing of ideas and strategies in many different areas, including groups comprised of guidance counselors, nurses, diversity coordinators, and learning specialists. This gives all our schools fresh, new ideas, which in turn makes all the schools stronger and better able to serve your child.
AAAIS operates under the leadership of an Executive Committee, all of whom are school heads. An Executive Director manages the day-to-day operation of the organization.
The Atlanta Area Association of Independent Schools (AAAIS) is the only professional organization of accredited independent schools dedicated to the Atlanta metro area that promotes the highest standards and best administrative practices for the benefit of its schools and the families and students they serve.
FRANK MOORE - EXECUTIVE DIRECTOR
Frank Moore received his bachelor's degree in mathematics and master's in Math Education and Leadership from Tulane University.
He taught math and computer science in New Orleans, having begun one of the first computer science programs in the state. Moving to Atlanta in 1987, he served as Dean of Studies at St. Pius X High School for ten years, and then became the President/Principal of Bishop McGuinness High School in Oklahoma City.
Frank returned to Atlanta in 2000 to become the founding principal of Blessed Trinity High School in Roswell, a position he held until his retirement in June 2016.
Frank has served on the Louisiana State Curriculum Committee for Computer Science Education, the Oklahoma Governor's Principal Advisory Committee, and the Board of Trustees of the Georgia Independent School Association.
Frank has two grown children and three grandchildren.
PATTY CHILDS
Patty Childs received her bachelor's degree and master's degrees in Early Childhood Education from Mercer University, Atlanta campus. She completed her Leadership work at the University of Georgia and at the Principal's Center at Harvard University.
She began her teaching career in 1981 at Columbia Elementary School in DeKalb County Public Schools. Eight years later she had the chance to "return home" to St. Thomas More in Decatur, where she herself attended school, as a kindergarten teacher. In August of 2001, all roads led to Saint Jude the Apostle Catholic School where it has been her greatest honor to serve as principal.
Patty has had the opportunity to present at several local and national conferences on topics she is passionate about such as mentoring new teachers, building executive function skills, use of iPads in the classroom, and pastor-principal relationships. She serves on the AdvancED District Accreditation for the Archdiocese of Atlanta Catholic Schools steering committee. In 2012, she was delighted to accept, on behalf of the school, the Catholic Schools for Tomorrow Innovations in Education Award presented by Today's Catholic Teacher. Patty was selected as the Archdiocesan Principal of the Year in 2012, and received the National Catholic Education Association (NCEA) Distinguished Principal Award in 2013.
Patty and her husband have one grown son and three grandsons.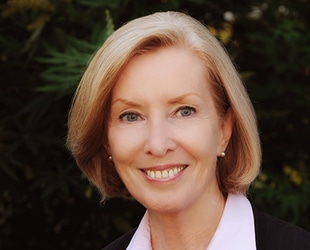 MARIFRED CILELLA
Marifred Cilella has served as Head of The Howard School since 2005.  Upon arrival at Howard, Marifred began and successfully completed the construction of the new campus, the sale of the old campus on Ponce de Leon Avenue, and the subsequent move of all facilities and staff to the new location.
Marifred began her career as a public school English and Social Studies teacher.  Following two years in schools, she worked in politics, retailing and the museum field before returning to education, this time in the independent school world.  When her family moved to Columbia, South Carolina, Marifred joined the staff of Heathwood Hall Episcopal School, first as Lower School Principal, and ultimately, as Associate Head for Finance and Operations.  A move to Indianapolis gave her the opportunity to serve as Founding Director of The Russel & Mary Williams Learning Project at Park Tudor School, a position she held until coming to The Howard School.
Marifred received her Bachelor of Arts Degree in English (minor in Social Studies) from Rosary College (now Dominican University) in River Forest, Illinois.  She earned a Master of Arts in Teaching Degree (English and Education) from the University of Notre Dame, and completed additional graduate work in Early Childhood Education and Educational Leadership at the University of South Carolina.  While serving as a Lower School Principal, Marifred completed a Harvard Graduate School of Education Institute on The Art and Craft of the Principalship.
Active in the Atlanta community and beyond, Marifred is a member of the Atlanta Kiwanis Club, and serves on the Executive Committee of the Atlanta Area Association of Independent Schools, as well as the boards of the Georgia Independent School Association and the Southern Association of Independent Schools.  She has been a member of the Board of the International Dyslexia Association – Georgia Branch, the Advisory Council of the Disabilities Ministry of the Archdiocese of Atlanta and the Beltline Planning Committee for the area surrounding The Howard School.
Marifred is married to Salvatore G. Cilella, Jr., and has two adult sons and five grandchildren.
KEITH EVANS
Keith Evans became the fifth president of The Westminster Schools in July, 2014. He came to Westminster from The Collegiate School in Richmond, VA, where he had served as Head of School from 1999 to 2014. Evans has also held leadership roles at St. Mary's Episcopal School (Memphis, TN), Webb School of Knoxville (TN), and The McCallie School (Chattanooga, TN).
A graduate of Davidson College, Evans earned his bachelor's degree in religion. He holds master's degrees from Harvard University and the University of Tennessee. Over the span of his career, he has taught courses across a variety of disciplines including religious studies, economics, government, psychology, and neuroscience.
Evans has enjoyed fellowships with the National Endowment for the Humanities and the Klingenstein Center at Columbia University. He has served on boards of the Southern Association of Independent Schools, the Virginia Council on Private Education and a variety of nonprofits focused on ending homelessness, addiction recovery, and expanding educational opportunities.
Evans and his wife, Emilie, have two grown sons, Ronnie and Hank. He enjoys travel, skiing, and outdoor activities of all kinds.
KEVIN GLASS
Kevin Glass has been Headmaster of Atlanta International School since July 2009. He has a Master of Arts in Educational Leadership from Framingham State College, Massachusetts; a Post Graduate Certificate of Education in Biology and Chemistry from Cambridge University, UK; and a Bachelor of Science (Hons.) Degree in Bacteriology and Virology from Manchester University, UK.
Mr. Glass' career in education spans over 25 years and includes educational leadership and teaching positions in South and West Africa, Central and North America, and Central Asia.  Prior to joining Atlanta International School, Glass served as Director of Tashkent International School in Uzbekistan for five years.
He is a board member of the Academy for International School Heads and the Center for the Advancement and Study of International Education. Glass is a member of the International Baccalaureate Grant Committee, along with serving as an advisory board member for The International Educator and The Principals' Training Center. Glass is also currently the Board President for the Association for the Advancement of International Education. Glass is also a Board Member for the Buckhead Coalition, a member of Buckhead Rotary, and a Leadership Atlanta Graduate of the Class of 2011.
He and his wife, Stefani have three children: Liam, Lilly and Leanne, who all attend Atlanta International School.
STUART GULLEY
Frank Stuart Gulley, Ph.D., became the seventh president of Woodward Academy on July 1, 2009. President Gulley came to Woodward Academy from LaGrange College, where he served as president for 13 years.
A native of Nashville, Tennessee, President Gulley graduated from Vanderbilt University with a B.A. in Modern European History, cum laude, in 1983. Following his time at Vanderbilt, he attended Emory University's Candler School of Theology, from which he earned the Master of Divinity degree, magna cum laude, in 1986. He completed his Doctorate of Philosophy degree at Georgia State University in 1999, which he began while working full-time at Emory University. He is the author of a book, "The Academic President as Moral Leader: James T. Laney at Emory University, 1977-1993," published by Mercer University Press in 2001.
President Gulley met his wife, Kathleen Crenshaw Gulley, when both were master's degree candidates at the Candler School of Theology. They are the parents of Andrew, a sophomore at Andrew College and Matthew, a senior at Woodward Academy.
JACK HALL
Jack Hall began serving as The Walker School's Head of School in 2011. Since taking the helm, he has led the school through a dual long-range planning and SACS re-accreditation process, overseen the largest land acquisition in the school's 60 year history, and grown Walker's annual fund to record levels in both revenue and parent participation.
Mr. Hall previously served as Head of School for the Augusta Preparatory Day School from 1999 to 2011. During his educational career, Mr. Hall has served as Director of Admission & Financial Aid, Head of the Upper School and Middle School, and Grade Chair. He has taught history, social studies, drama, and religion and coached basketball, baseball and football. Mr. Hall has worked in a variety of independent schools including The Westminster Schools, The Lovett School, Mary Institute, and St. Louis Country Day School. In addition, Mr. Hall has served as both Vice President (2004-2006) and President (2006-2008) of the Georgia Independent School Association.
Mr. Hall received a Bachelor of Arts in Theatre at Davidson College. In addition, he secured two advanced degrees: a Master of Science in Athletic Administration from Georgia State University and a Master of Arts in Education Administration from Columbia University. Mr. Hall was also a Klingenstein Fellow at Columbia University.
Jack and his wife, Cathy, have two grown children, Joseph and Alice.
Ayanna Hill-Gill

Ayanna Hill-Gill, affectionately known as Yanni, is the Head of School at Atlanta Girls' School since her arrival in July of 2014. Yanni previously worked at Purnell School, a boarding school for girls in New Jersey, where she was the Head of School since 2007. Beginning in 1994, Yanni held positions at Purnell from science teacher to Dean of Students to Associate Head of School.
Yanni holds a bachelor's degree in biology and chemistry from Dickinson College and a master's degree from Columbia University Teacher's College with an emphasis on private school leadership. She has been a yearlong Klingenstein Fellow and an E.E. Ford Fellow for the NAIS Aspiring Heads Program. Prior to her tenure at Purnell, Yanni worked at the Brooklyn Botanic Garden building their community outreach program and developing curriculum for children's educational programs. In 1992, Yanni lived in Costa Rica while studying sustainable development and conducting independent research in water quality. It was these two experiences that led Yanni to teaching, with a special interest in science.
Yanni currently serves on the Boards of the Heads Network and the National Coalition of Girls' Schools. She serves locally as a member of the Advisory Board of the Global Village Project, an all-girls' school for refugees in Decatur, GA. Yanni is a member of the Leadership Atlanta Class of 2017 and Emory University's Board of Visitors.  As a graduate of an all-girls' school in Philadelphia, Yanni has committed her career to creating opportunities for girls and young women to discover their voices, achieve success, and become leaders in the fields of their choice.
LUIS OTTLEY
Dr. Ottley joined St. Martin's Episcopal School as its Head of School in 2017. Bringing 27 years of independent school experience to the position, he is currently responsible for the leadership and operation of the Brookhaven-based preschool through eighth-grade day school that enrolls 600 students and employs approximately 125 faculty and staff members.
Previously, he was Head of School at Marin Horizon School in Mill Valley, California for six years. Dr. Ottley has also served as Middle School Principal at Ethical Culture Fieldston School in New York City for four years, Middle School Director at University Preparatory Academy in Seattle for two years and spent four years as Assistant Head of the Lower School at The Shipley School near Philadelphia. Prior to that, he held various teaching and administrative positions at independent schools in the Maryland area.
A native of the Republic of Panama, Dr. Ottley received his B.A. degree from Allegheny College, his MBA from Johns Hopkins University and his Ed.D. from the University of Pennsylvania.